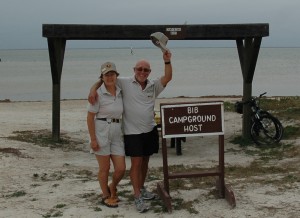 Well here we are living the dream. The journey is well underway.  The motivation for this site is to leave a trail of our travels, chronicle those we meet and share our experiences along the way.  Keeping up from the road always has its challenges.  There will be an ongoing blog for you to follow and even leave comments if you wish.  We will strive for "the" picture of the day plus a photo gallery to highlight the people, places and events we find in our travels.
As we began this next phase of our lives we are looking to experience "the thrill of the chase", meeting new people, experiencing interesting places and having some fun along the way.  Safely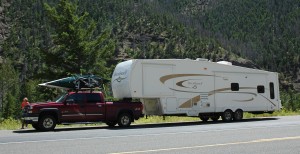 secured to the top of the truck are the bikes and kayaks which can come off with a moment's notice and be put into action.  The backpacks and hiking shoes are under the bed for those impromptu or planned trips down the trail.  The camera is always within reach to capture those Kodak moments.  Plus, we still want to make a difference by volunteering or working when we can.   The never ending discussion is the one on whether our lifestyle will be one of full time or extended Travelers/RVers.   Yes, we still have "the" house, although the discussion is changing from using  the word "home" to "base camp"…so stay tuned to follow us and to see how this all comes out.
Keep in touch and stay close…
God Bless,
Larry and Jan